Hello, we are Twisto.
Credit account that simplifies online shopping and payments.
Buy now and pay next month.
Simple buying with deferred payment
Twisto lets you make purchases today and pay for it the next month. Don't stress yourself with payments even if you don't have enough money in your bank account.
How can I use Twisto
02
Pay your bills in a Snap
All your bills and invoices can be paid simply by sending an e‑mail to pay@twisto.cz or by taking a picture of the paper bill via the mobile app. Twisto Snap takes care of your payments and watches the due dates for you. Let us worry.
How Twisto Snap works (0:25)
03
Twisto card
Coming soon
Instant payment notifications and automatic transaction categorization within the Twisto mobile app.
Your partner for shopping and payments
Buy today, pay for it the next month After registration Twisto will set your credit limit. Over the course of an entire month, we pay all your purchases. Then we send you a single invoice, which you can either pay in full or defer for several months.
Purchase protection for buyers With Twisto you pay all your purchases only after you receive the goods. We will help you with your complaints in case the merchant sends you something different than you ordered.
Create an account in less than 7 minutes You can create your own Twisto account within a few minutes. It's free, paperless and without any ties. Create Twisto account now.
Way to handle unexpected expenses If you cannot pay the full amount, you can pay only 10% and defer the rest to the next month. You pay 5 CZK fee for every postponed 100 CZK.
How much does Twisto cost
Create account, it's FREE
You can create your Twisto account in less than 7 minutes completely online. No hidden fees or commitments.
Monthly fee FREE
Up to 45 days interest free period, mobile app, Twisto Snap and all other great freatures are free.
Online purchases FREE
Deferred payment in e-shops is free if you pay within the next month before the due date.
Extend due date for a small fee
You can postpone your date due for a month. You pay 5 CZK fee for every postponed 100 CZK.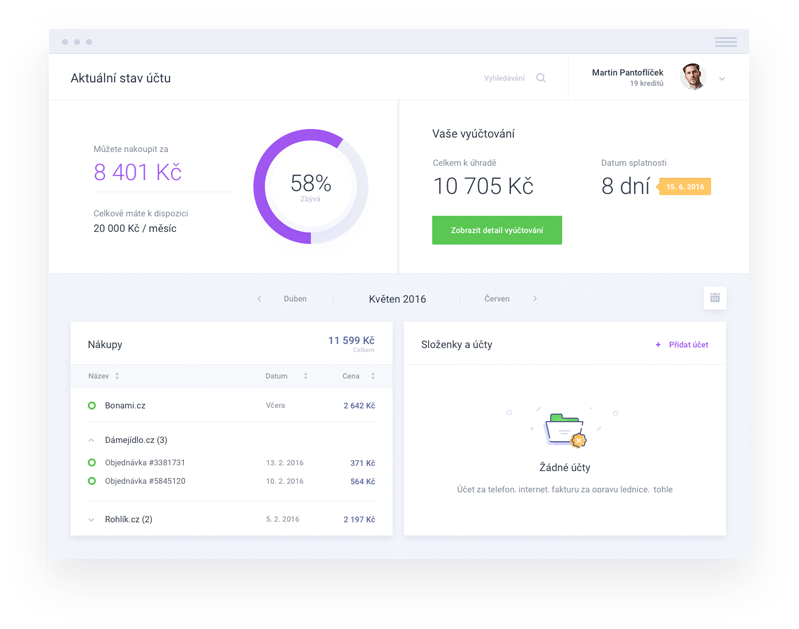 More than 97% of customers rate Twisto as perfect
Based on 40 131 customers' reviews
personJirka V.
    
"Great service! :) Quick, easy and thanks to the smart reminders I never forget to pay my Twisto invoice on time""
personMarkéta S.
    
I've discovered Twisto only recently, but I can already say that I'm pleasantly surprised. Twisto has become my only way to pay bills."
personDenisa M.
    
As a mother on maternity leave, Twisto helps me fill the gap when I need to purchase something instantly for my little one and don't have the necessary finances"
Try Twisto, and you won't want to pay any other way!