Twisto pays for you
without using your own money; without any connection to your bank account. Stop worrying about money. Let Twisto pay for you and start investing your time in what truly matters!
All payments
at your fingertips
Over the course of an entire month, Twisto finances all of your purchases, takes care of your bills and tracks all payments in a simple to use mobile app, resulting in an easy and consistent way to stay on top of your finances.
How can I use Twisto
03
Twisto card
We're working on it
A safe card you can use to make payments without having to spend your own money. It instantly displays all new payments within the Twisto mobile app.
4 reasons to pay with Twisto
Safety Twisto is not connected to your bank account, which makes it impossible for anyone to hack into it. It is subject to Czech National Bank supervision.
Tracking Twisto immediately displays all payments in your account, allowing you to stay on top of your expenses.
Simplicity Twisto brings to the table revolutionary tools such as one-click payment and e-mail payment.
Financial security Twisto pays for you even when you don't have the money in your bank at that moment.
When you have Twisto, it doesn't matter which bank you are with. We're a modern platform that takes care of all your payments.
Pay everywhere and for everything with us
We get along with online stores, bills, and invoices. With us, you can always pay comfortably.
Conveniently at your fingertips
With Twisto, you get a detailed overview of your spendings. All in one simple interface.
Compensation once a month
Over the course of an entire month, we pay for you. Then we send you a single invoice, which you can either pay in full or postpone for several months.
And we're free of charge
Our app and its use are free of all monthly fees. We're not a bank.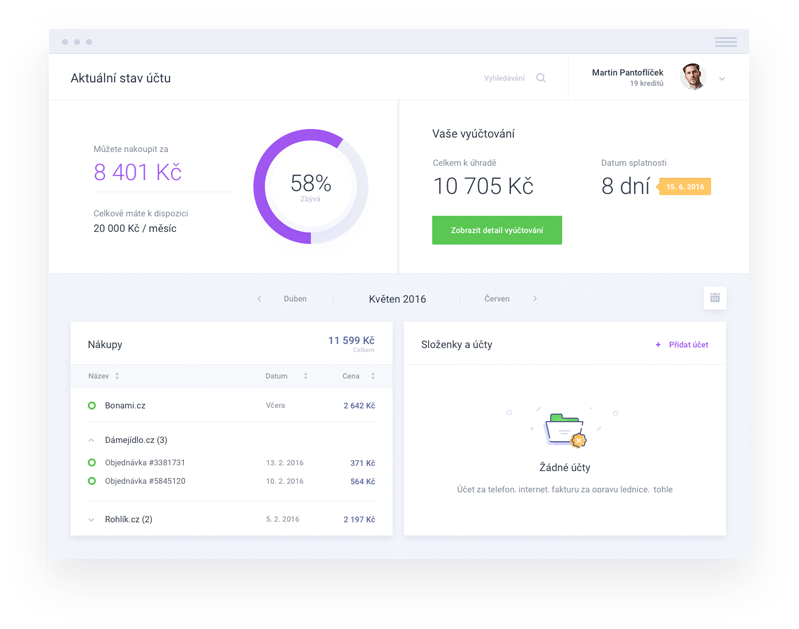 More than 97% of customers rate Twisto as perfect
Based on 40 131 customers' reviews
Jirka V.
    
"Great service! :) Quick, easy and thanks to the smart reminders I never forget to pay my Twisto invoice on time""
Markéta S.
    
I've discovered Twisto only recently, but I can already say that I'm pleasantly surprised. Twisto has become my only way to pay bills."
Denisa M.
    
As a mother on maternity leave, Twisto helps me fill the gap when I need to purchase something instantly for my little one and don't have the necessary finances"
Try Twisto, and you won't want to pay any other way!